PENERAPAN METODE FMEA DAN AHP DALAM PERUMUSAN STRATEGI PENGELOLAAN RESIKO PROSES PRODUKSI YOGHURT
Keywords:
Analitycal Hierarchy Process, Failure Mode and Effect Analysis, Resiko Produksi, Yoghurt
Abstract
ABSTRAK
Analisis risiko produksi merupakan aspek penting dalam menjamin keberhasilan produksi dan bisnis. Riset ini bertujuan menganalisis risiko produksi yoghurt, mengidentifikasi faktor-faktor yang menyebabkan terjadinya risiko produksi yoghurt, dan strategi untuk meminimalkan risiko produksi yoghurt. Metode FMEA merupakan metode yang digunakan untuk mengidentifikasi risiko produksi  yoghurt. AHP digunakan untuk membantu penentuan alternatif strategi dalam meminimalkan risiko produksi yoghurt. Hasil penelitian menunjukkan risiko tertinggi dari masing-masing variabel. Risiko tersebut yaitu kualitas susu segar (susu mengandung bakteri patogen), proses produksi (kualitas bakteri starter menurun/mati), dan produk jadi (pesaing produk sejenis). Strategi untuk meminimasi risiko produksi yoghurt yaitu kualitas susu segar (pelatihan intensif bagi peternak), produk (kemitraan dengan pelaku bisnis lain), dan proses produksi (meningkatkan perawatan mesin dan peralatan).
 
ABSTRACT
Production risk analysis is an important aspect for ensuring the success of the production and business. This research aimed to analyze the risks of yoghurt production, identify the factors that influence the risks of yoghurt production, and formulate the strategies to minimize the risks of yoghurt production. FMEA method was used to identify risk production and AHP was used to determine alternative strategies for minimizing the risk of yoghurt production. The results showed there are some the highest risks of each variable namely: milk contains bacterial pathogens, quality starter bacteria decreased/dead, and competitors that produce similar products. Strategies to manage the risk of the production of yoghurt, namely intensive training for the breeders to ensure the quality of fresh milk, partnership with other business person, and improving performance machinery and equipment
References
Agnihotri, R, Dingus, R, Hu, M, Y, Krush, M,T. 2016. Social media: Influencing customer satisfaction in B2B sales. Industrial Marketing Management. 53:172-180
Ahsen, A, V. 2008. Cost-oriented failure mode and effects analysis. International Journal of Quality & Reliability Management. 25(5):466-476
Aritonang, SN. 2010. Susu dan Teknologi. Swagati Press, Cirebon
Barton, R, Bobst, R. 1988. How to manage the risks of technology. Journal of Business Strategy. 9(6):4-7
BPS. 2015. Pertumbuhan produksi IBS naik sebesar 5.44% dan IMK naik 4.57% pada QII-2015 dari QII-2014. Dilihat 9 Juni 2016. <https://www.bps.go.id/Brs/view/id/1166>
Budiyono, H. 2009. Analisis daya simpan produk susu pasteurisasi berdasarkan kualitas bahan baku mutu susu. Jurnal Paradigma. 10(2): 198-211
Darmawi, H. 2006. Manajemen Resiko. Bumi Aksara, Jakarta
de Almeida Júnior, W, L, G, Ferrari, I, S, de Souza, J, V, da Silva, C, D, A, da Costa,bM, M, Dias, F, S. 2015. Characterization and evaluation of lactic acid bacteria isolated from goat milk. Food Control. 53:96-103
Djatikusuma, E, S, Getrycia, W. 2014. Analisis faktor-faktor yang mempengaruhi keputusan pembelian konsumen pada produk minuman berisotonik pocari sweat. Dilihat 9 Juni 2016. <http://eprints.mdp.ac.id/747/1/jurnal%202009200041%20wanda%20getrycia.pdf>
Echchakoui, S. 2016. Relationship between sales force reputation and customer behavior: Role of experiential value added by sales force. Journal of Retailing and Consumer Services. 28:54-66
Effendi, M, H, Sorini, H, Lusiastuti, A, M. 2009. Peningkatan kualitas yoghurt dari susu kambing dengan penamba- han bubuk susu skim dan pengaturan suhu pemeraman. J. Penelit. Med. Eksakta. 8(3):185-192
Flygansvaer, B, M, Gadde, L, E, Haugland, S, A. 2008. Coordinated action in reverse distribution systems. International Journal of Physical Distribution & Logistics Management. 38(1):5-20
Hou, Q, Xu, H, Zheng, Y, Xi, X, Kwok, L, Y, Sun, Z, Zhang H, Zhang, W. 2015. Evaluation of bacterial contamination in raw milk, ultra-high temperature milk and infant formula using single molecule, real-time sequencing technology. Journal of Dairy Science. 98(12):8464-8472
Hsu, P, H, Lee, H, H, Liu, A, Z, Zhang, Z. 2015. Corporate innovation, default risk, and bond pricing. Journal of Corporate Finance. 35:329-344
Ihm, J. 2015. Network measures to evaluate stakeholder engagement with non- profit organizations on social networking sites. Public Relations Review. 41(4):501-503
Jackson, RS. 2014. 'Fermentation'. Dalam Jackson, RS. Wine Science. Academic Press, Tokyo
Kusumasari, B. 2012. Network organisation in supporting post-disaster management in Indonesia. International Journal of Emergency Services. 1(1):71-85
Lestari, N, F, Makin, M, Firman, A. 2015. Hubungan antara penerapan good dairy farming practice dengan tingkat pendapatan peternak pada peternakan sapi perah rakyat (suatu kasus di wilayah kerja KPBS pangalengan kabupaten bandung). Student e-journals. 4(3):1-16
Li, Y. 2011. Study on operating performance of listed companies in electronic information industry. Procedia Environmental Sciences. 10:344-349
Marimin. 2004. Teknik dan Aplikasi Pengambil Keputusan Kriteria Majemuk. Gramedia Widiasarana Indonesia, Jakarta
Markos, S, Sridevi, M, S. 2010. Employee engagement: the key to improving performance. IJBM. 5(12):89-96
Mataragas, M, Dimitriou, V, Skandamis, P, N, Drosinos, E, H. 2011. Quantifying the spoilage and shelf-life of yoghurt with fruits. Food Microbiology. 28(3):611-616
Medeiros, A, C, Souza, D, F, Correia, R, T, P. 2015. Effect of incubation temperature, heat treatment and milk source on the yoghurt kinetic acidification. IFRJ. 22(3):1030-1036
Milagres, M, P, Brandão, S, C, C, Magalhães, M, A, Minim, V, P, R, Minim, L, A. 2012. Development and validation of the high performance liquid chromatography–ion exclusion method for detection of lactic acid in milk. Food Chemistry. 135(3):1078-1082
Moorby, J, M, Ellis, N, M, Davies, D, R. 2016. Assessment of dietary ratios of red clover and corn silages on milk production and milk quality in dairy cows. Journal of Dairy Science. 99(10):7982-
Muawanah, A. 2007. Pengaruh lama inkubasi dan variasi jenis starter terhadap kadar gula, asam laktat, total asam dan pH yoghurt susu kedelai. Jurnal Kimia Valensi. 1(1):1-6
Muhtadi, M, Z, Z. 2009. Manajemen pemeliharaan untuk optimalisasi laba perusahaan. Jurnal Pendidikan Akuntansi Indonesia. 8(1): 35–43
Mulyadi. 2007. Sistem Perencanaan dan Pengendalian Manajemen. Salemba Empat, Jakarta
Murali, S, Pugazhendhi, S, Muralidharan, C. 2016. Modelling and Investigating the relationship of after sales service quality with customer satisfaction, retention and loyalty – a case study of home appliances business. Journal of Retailing and Consumer Services. 30:67-83
Nababan, L, A, Suada, I, K, Swacita, I, B, N. 2014. Ketahanan susu segar pada penyimpanan suhu ruang ditinjau dari uji tingkat keasaman, didih, dan waktu reduktase. Indonesia Medicus Veteri-
nus. 3(4):274-282
Nababan, L, A, Suada, I, K, Swacita, I, B, N. 2015. Kualitas susu segar pada penyimpanan suhu ruang ditinjau dari uji alkohol, derajat keasaman dan angka katalase. Indonesia Medicus Veterinus,.
(4): 374-382
Partovi, F, Y, Burton, J, Banerjee, A. 1990. application of analytical hierarchy process in operations management. International Journal of Operations & Production Management. 10(3):5-19
Rakhmawati, N, Hadi, W. 2015. Peranan higiene dan sanitasi dalam proses pengolahan makanan di hotel brongto yogyakarta. Jurnal Khasanah Ilmu. 6(1):79-87
Robinson, R, K. 1993. Lactic acid bacteria. British Food Journal. 95(4):29-30
Royan, FM. 2009. Distributorship Management. Gramedia Pustaka Utama, Jakarta
Santoso, H, B. 1994. Teknologi Tepat Guna Susu dan Yoghurt Kedelai. Kanisius, Indonesia
Santoso, S. 2007. Seri Solusi Bisnis TI: Total Quality Management (TQM) dan Six Sigma. Elex Media Komputindo, Jakarta
Sayuti, M, Muhammad, Rifa'i, M, S. 2013. Evaluasi manajemen perawatan mesin dengan menggunakan metode reliability centered maintenance pada pt z. MIEJ Journal. 2(1): 9-13
Sembiring, J J. 2010. Smart HRD: Perusahaan Tenang, Karyawan Tenang. Visimedia, Jakarta
Surono, IS, Sudibyo, A, Waspodo, P. 2016. Pengantar Keamanan Pangan Untuk Industri. Deepublish, Yogyakarta Tauer, L, W. 2002. Estimating risk-adjusted interest rates for dairy farms. Agricultural Finance Review. 62(1):59-68
Teng, S, H, Ho, S, Y. 1996. Failure mode and effects analysis: An integrated approach for product design and process control. International Journal of Quality & Reliability Management. 13(5):8-26
Tchankova, L. 2002. Risk identification–basic stage in risk management. Environmental Management and Health. 13(3):290-297
Utami, K, B, Radiati, L, E, Surjowardojo, P. 2014. Kajian kualitas susu sapi perah PFH (studi kasus pada anggota koperasi agro niaga di kecamatan jabung kabupaten malang). Jurnal Ilmu-Ilmu Peternakan. 24(2):58–66
Weeks, H, L, Frederick, T, W, Hagan, L, M, Heyler, K, Hristov PAS, A, N. 2015. Case study: Farm-level evaluation of implementing nitrogen and phosphorus feeding best management practices on Pennsylvania dairy farms. The Professional Animal Scientist. 31(5):573-483
Yasa, I, W, W, Sila Dharma, I, G, B, Ketut Sudipta, I, G. 2013. Manajemen resiko operasional dan pemeliharaan tempat pembuangan akhir (TPA) regional bangli di kabupaten bangli. Jurnal Spektran. 1(2): 30-38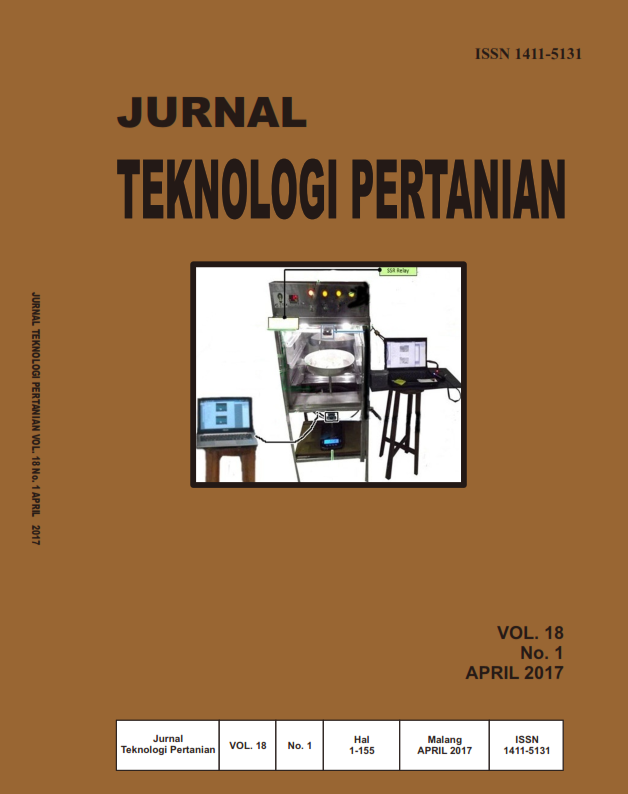 Downloads
License
Authors who publish with this journal agree to the following terms:
Authors retain copyright and grant the journal right of first publication with the work simultaneously licensed under a Creative Commons Attribution License that allows others to share the work with an acknowledgement of the work's authorship and initial publication in this journal
Authors are able to enter into separate, additional contractual arrangements for the non-exclusive distribution of the journal's published version of the work (e.g., post it to an institutional repository or publish it in a book), with an acknowledgement of its initial publication in this journal