INOVASI PRODUK CITRUS INFUSED HONEY TEA DENGAN PENAMBAHAN ROSELA (HIBISCUS SABDARIFFA LINN.) (KAJIAN KONSENTRASI ROSELA DAN LAMA INFUSING)
Keywords:
Citrus infused honey tea, Infusing, Madu, Organoleptik, Rosela
Abstract
ABSTRAK
Citrus infused honey tea di Indonesia merupakan produk inovasi dari pengolahan madu yang diharapkan dapat memberikan manfaat yang lebih besar dibandingkan produk turunan madu lainnya. Rosela ditambahkan untuk meningkatkan kualitas kenampakan dan memberikan warna merah alami pada produk. Tujuan penelitian ini untuk mengetahui pengaruh serta kombinasi konsentrasi rosela dan lama infusing pada kualitas citrus infused honey tea serta mengetahui karakteristik fisikokimia perlakuan terbaik citrus infused honey tea. Penelitian ini menggunakan Rancangan Acak Lengkap (RAL) faktorial dengan 2 faktor, yaitu konsentrasi rosela (10%, 15%, dan 20%), serta lama infusing (1 hari dan 7 hari). Perlakuan terbaik ditentukan dengan metode Zeleny. Hasil penelitian menunjukkan bahwa konsentrasi rosela, lama infusing, dan interaksinya berpengaruh nyata terhadap parameter organoleptik. Perlakuan terbaik diperoleh pada konsentrasi rosela 15% dan lama infusing 7 hari. Karakteristik perlakuan terbaik pekatan citrus infused honey tea meliputi warna (L* 28.3; a +17.6; b +3.9), TPT 66.27%, viskositas 11.210 cps, kadar air 30.37%, vitamin C 35.66 mg/100 g, total gula 58.30%, aktivitas antioksidan 965.3 ppm, dan pH 2.7. Seduhannya memiliki karakteristik warna (L* 38.9; a +12.9; b +5.6), TPT 14.27%, vitamin C 14.08 mg/100 g, total gula 17.06%, aktivitas antioksidan 3370 ppm, dan pH 2.9
 
ABSTRACT
Citrus infused honey tea in Indonesia is a product of honey processing innovation which is expected to provide greater benefits than existing others derivatived honey products. Roselle added to improve appearance and give the red color products. The purpose of this study is to determine the effect and the combination of concentration of rosela and the period of infusing in producing citrus infused honey tea and to know the physicochemical characteristics of the best treatment of citrus infused honey tea. This study was using Complete Random Design method (RAL) factorial with two factors, namely concentration of roselle (10%, 15%, and 20%), and period of infusing (1 day and 7 days). The best treatment is determined with Zeleny method. The result showed that concentration of roselle, period of infusing, and its interaction influences significantly the organoleptic parametrics. The best treatment was obtained by roselle concentration of 15% and the period of infusing for 7 days. Characteristics of the best treatment of citrus infused honey tea consists of color (L* 28.3; a +17.6; b +3.9), TDS 66.27%, viscosity 11.210 cps, water content 30.37%, vitamin C 35.66 mg/100 g, total sugar 58.30%, antioxidant activity 965.3 ppm, and pH 2.7. The infusion has characteristics of colors (L* 38.9; a +12.9; b +5.6), TDS 14.27%, vitamin C 14.08 mg/100 g, total sugar 17.06%, antioxidant activity 3370 ppm, and pH 2.9
References
Abbas, R, K, Fadlelmula, A, A, Elsharbasy, F, S. 2016. Effect of storage duration and cultivars on chemical constituents of roselle (Hibiscussabdariffa L.) undergrowing conditions of sudan. Journal of Chemical, Biological and Physical Sciences. 7(1):115-121
AlHafez, M, Kheder, F, Aljoubbeh, M. 2014. Polyphenols, flavonoids and (-)-epigallocatechin gallate in tea leaves and in their infusions under various conditions. Nutrition & Food Science. 44(5):455-463
Alvarez-Suarez, J, M, González-Paramás, A, M, Santos-Buelga, C, Maurizio Battino. 2010. Antioxidant characterization of native monofloral cuban honeys. J. Agric. Food Chem. 58(17):9817–9824
Apriyantono, A, Fardiaz, D, Puspitasari, NLS, Budiyanto, S. 1989. Analisis Pangan: Petunjuk Laboratorium. IPB, Bogor
Ball, D, W. 2007. The chemical composition of honey. Journal of Chemical Education. 84(10):1643-1646
Bambang, K, Hastuti, P, Supartono, W. 1988. Pedoman Uji Inderawi Bahan Pangan. UGM, Yogyakarta
Bautista-Ortín, A, B, Martínez-Hernández, A, Ruiz-García, Y, Gil-Muñoz, R, Gómez-Plaza, E. 2016. Anthocyanins influence tannin–cell wall interactions. Food Chemistry. 206:239-248
Bogdanov, S. 2009. Honey. Bee Product Science, USA
Brigand, J, P, Nahon, P. 2016. Gastronomy and the citron tree (Citrus medica L.). International Journal of Gastronomy and Food Science. 3:12-16
BSN. 2013. Madu. Dilihat 17 November 2016. <http://sisni.bsn.go.id/index.php/sni_main/sni/detail_sni/15777>
Chen, S, S, Liu, J, Y, Hsui, Y, R, Chang, S, T. 2006. Chemical polymorphism and antifungal activity of essential oils from leaves of different provenances of indigenous cinnamon (Cinnamomum osmophloeum). Biosource Technology. 97(2):306-312
Chumsri, P, Sirichote, A, Itharat, A. 2008. Studies on the optimum conditions for the extraction and concentration of roselle (Hibiscus sabdariffa Linn.) extract. Songklanakarin J. Sci. Technol. 30(Suppl.1):133-139
Codex Stan. 1981. Codex standard for honey. Dilihat 7 Oktober 2016. <http://www.aca.org.ro/content/media/pagini/cxs_012e.pdf>
Cui, B, Hu, Z, Zhang, Y, Hu, J, Yin, W, Feng, Y, Xie, Q, Chen, G. 2016. Anthocyanins and flavonols are responsible for purple color of Lablab purpureus (L.) sweet pods. Plant Physiology and Biochemistry.
:183-190
Da-Costa-Rocha, I, Bonnlaender, B, Sievers, H, Pischel, I, Heinrich, M. 2014. Hibiscus sabdariffa L. – a phytochemical and pharmacological review. Food Chemistry. 165:424-443
El Sohaimy, S, A, Masry, S, H, D, Shehata, M, G. 2015. Physicochemical characteristics of honey from different origins. Annals of Agricultural Sciences. 60(2):279-287
Farag, M, A, Rasheed, D, M, Kamal, I, M. 2015. Volatiles and primary metabolites profiling in two Hibiscus sabdariffa (roselle) cultivars via headspace SPME-GC-MS and chemometrics. Food Research International. 78:327-335
Farida, A, Ferawati, Arqomah, R. 2013. Ekstraksi zat warna dari kelopak bunga rosella (studi pengaruh konsentrasi asam asetat dan asam sitrat). Jurnal Teknik Kimia. 19(1):26-34
Fasoyiro, S, B. 2014. Physical, Chemical and Sensory Qualities of Roselle Water Extract-coagulated Tofu Compared with Tofu from Two Natural Coagulants. Nigerian Food Journal. 32(2):97-102
Farzaneh, V, Carvalho, I, S. 2015. A review of the health benefit potentials of herbal plant infusions and their mechanism of actions. Industrial Crops and Products. 65:247-258
Frewer, L, J, Bergmann, K, Brennan, M, Lion, R, Meertens, R, Rowe, G, Siegrist, M, Vereijken, C. 2011. Consumer response to novel agri-food technologies: Implications for predicting consumer acceptance of emerging food technologies. Trends in Food Science & Technology. 22(8):442-456
Gan, F, Chua, Y, S, Scarmagnani, S, Palaniappan, P, Franks, M, Poobalasingam, T, Bradshaw, T, D, Westwell, A, D, Hagen, T. 2009. Structure–activity analysis of 2'-modified cinnamaldehyde analogues as potential anticancer agents. Biochemical and Biophysical Research Communications. 387(4):741-747
General Ming's. 2013. History of korean citron tea. Dilihat 1 Desember 2016 <http://www.generalmings.com/history-of-korean-citron-tea/>
Gheldof, N, Engeseth, N, J. 2002. Antioxidant capacity of honeys from various floral sources based on the determination of oxygen radical absorbance capacity and inhibition of in vitro lipoprotein oxidation in human serum samples. J. Agric. Food. Chem. 50(10):3050-3055
Gonzales-Palomares, S, Estarrón-Espinosa, M, Gómez-Leyva, J, F, Andrade-González, I. 2009. Effect of the temperature on the spray drying of roselle extracts (Hibiscus sabdariffa L.). Plant Foods. Hum. Nutr. 64(1):62-67
Guzman, J, D. 2014. Natural cinnamic acids, synthetic derivatives and hybrids with antimicrobial activity. Molecules. 19:19292-19349
Hashtjin, A, M, Abbasi, S. 2015. Nano-emulsification of orange peel essential oil using sonication and native gums. Food Hydrocolloids. 44:40-48
Hastuti, N, D. 2012. Pembuatan minuman fungsional dari madu dan ekstrak rosela (Hibiscus sabdariffa Linn.). Jurnal Teknologi Pangan. 3(1):29-63
Herrera-Arellano, A, Flores-Romero, S, hávez-Soto, M, A, Tortoriello, J. 2004. Effectivencess and tolerability of a standarized extracy from Hibiscus sabdariffa in patients with mild to moderate hypertention: a controlled and randomized clinical trial. Phytomedicine. 11(5):375-382
Imatome-Yun, N. 2012. Yuja Tea (Yuzu Citron Tea) Recipe. Dilihat 11 Oktober 2016. <http://koreanfood.about.com/od/drinks/r/Yuja-Tea-Yuzu-Citron-Tea-Recipe.htm>
Jeney-Nagymate, E, Fodor, P. 2008. The stability of vitamin C in different beverages. British Food Journal. 110(3):296-309
Karagül-Yüceer, Y, Coggins, P, C, Wilson, J, C, White, C, H. 1999. Carbonated yogurt—sensory properties and consumer acceptance. Journal of Dairy Science. 82(7):1394-1398
Kementerian Lingkungan Hidup dan Kehutanan. 2015. Statistik Kementerian Lingkungan Hidup dan Kehutanan Tahun 2014. Kementerian Lingkungan Hidup dan Kehutanan, Indonesia
Khatun, M, Eguchi, S, Yamaguchi, T, Takamura, H, Matoba, T. 2006. Effect of thermal treatment on radical-scavenging activity of some spices. Food Sci. Technol. Res. 12(3):175-185
Kimbal, JW. 1993. Biologi. Erlangga, Jakarta
Kumalaningsih, S. 2006. Antioksidan Alami Penangkal Radikal Bebas, Sumber, Manfaat, Cara Penyediaan dan Pengolahan. Trubus Agrisarana, Surabaya
Kurowska, E, M, Manthey, J, A. 2004. Hypolipidemic effects and absorption of citrus polymethoxylated Flavones in hamsters with diet-induced hypercholesterolemia. J. Agric. Food. Chem. 19:2879-2886
Lee, K, G, Shibatomo, T. 2002. Determination of antioxidant potential of volatile extracts isolated from various herb and spices. J. Agric. Food. Chem. 50(17):4947-4952
Ma, X, Liu, Y, Li, X, Xu, J, Gu, G, Xia, C. 2015. Water: the most effective solvent for liquid-phase hydrodechlorination of chlorophenols over raney ni catalyst. Applied Catalysis B: Environmental.
:351-369
Mahardika, B, D. 2014. Uji Penurunan Tingkat Keasaman dan Parameter Kimia pada Minuman Sari Rosela (Hibiscuss sabdariffa) Berkarbonasi. Skripsi. UB. Malang
Mardiah, SH, Arifah, R, Reki, W. 2009. Budi Daya dan Pengolahan Rosela Si Merah Segudang Manfaat. Agromedia Pustaka, Jakarta
Mentari, F, D, P, Susanto, W, H. 2014. Pengaruh proporsi (buah:sukrosa) dan lama osmosis terhadap kualitas sari buah stroberi (Fragaria vesca L.). Jurnal Pangan dan Agroindustri. 2(2): 82-90
Molyneux, P. 2004. The use of stable free Radical diphenylpicrylhydrazyl (DPPH) for estimating antioksidan activity. Songklanakarin J. Sci. Technol. 26(2):211-219
Moss, BW. 2002. The Chemistry of Food Colour. CRC Press, Washington
Muhilal dan Komari. 2000. Ester-C Vitamin C Generasi III. PT Gramedia Pustaka. Jakarta
Nidya, S. 2009. Pengaruh Jumlah Ekstrak Kelopak Bunga Rosela terhadap Sifat Fisikokimia dan Organoleptik Marshmallow. Skripsi. Universitas Katolik Widya Mandala. Surabaya
Nopwinyuwong, A, Trevanich, S, Suppakul, P. 2010. Development of a novel colorimetric indicator label for monitoring freshness of intermediate moisture dessert spoilage. Talanta. 81(3):1126-
Novandra, A, Widnyana, M. 2013. Peluang pasar produk perlebahan indonesia. Dilihat 10 Juni 2016. <http://www.forda-mof.org/files/PELUANG_PASAR_PRODUK_PERLEBAHAN_INDONESIA.pdf>
Padayachee, A, Netzel, G, Netzel, M, Day, L, Zabaras, D, Mikkelsen, D, Gidley, M, J. 2012. Binding of polyphenols to plant cell wall analogues – part 1: anthocyanins. Food Chemistry. 134(1):155-161
Peter, KV. 2001. Handbook of Herbs and Spices Volume I. Woodhead Publishing, India
Pohorille, A. 2005. Is Water a Universal Solvent for Life?. Proceeding Open Questions on the Origins of Life, Leicester, UK, pp. 1-2
Radice, M, Manfredini, S, Ziosi, P, Dissette, V, Buso, P, Fallacara, A, Vertuani, S. 2016. Herbal extracts, lichens and biomolecules as natural photo-protection alternatives to synthetic UV filters a systematic review. Fitoterapia. 114:144-162
Rahayu, WP. 2001. Penuntun Praktikum Penilaian Organoleptik. IPB. Bogor
Ramírez-Rodrigues, M, M, Balaban, M, O, Marshall, M, R, Rouseff, R, L. 2011. Hot and cold water infusion aroma profiles of hibiscus sabdariffa: fresh compared with dried. J. Food Sci. 76(2):C212-217
Ranken, MD, Kill RC. 1997. Food Industries Manual. Chapman and Hall, UK
Richana, N. 2009. Ubi Kayu dan Ubi Jalar. Nuansa Cendekia, Bogor
Rieder, A, Ballance, S, Knutsen, S, H. 2015. Viscosity based quantification of endogenous β-glucanase activity in flour. Carbohydrate Polymers. 115:104-111
Rigaux, C, Georgé, S, Albert, I, Renard, C, M, G, C, Carlin, F. 2016. A mechanistic and probabilistic model estimating micronutrient losses in industrial food processing: vitamin C and canned green beans, a case-study. LWT – Food Science and Technology. 69:236-243
Ruark, A, Vingerhoeds, M, H, Kremer, S, Nijenhuis-de Vries, M, A, Friszman, B, P. 2016. Insights on older adults' perception of at-home sensory-hedonic methods: a case of ideal profile method and CATA with ideal. Food Quality and Preference. 53:29-38
Šebjan, U, Tominc, P. 2016. Young customers' organoleptic assessment of tomatoes with different geographic origins: a preliminary study. British Food Journal. 118(4):871-884
Shoosh, W, G, A. 1997. Chemical Composition of Some Roselle (Hibiscus sabdariffa) Genotypes. Tesis. University of Khartoum. Sudan
Sihombing, DTH. 2005. Ilmu Ternak Lebah Madu. UGM Press, Yogyakarta
Sudarmadji, SB, Haryono, Suhardi. 1997. Prosedur Analisa untuk Bahan Makanan dan Pertanian. PT. Liberty, Yogyakarta
Suhesti, E, Hadinoto. 2015. Hasil hutan bukan kayu Madu sialang di kabupaten kampar (studi kasus: kecamatan kampar kiri tengah). Wahana Forestra: Jurnal Kehutanan. 10(2):16-26
Tau, T, Gunasekaran, S. 2016. Thermorheological evaluation of gelation of gelatin with sugar substitutes. LWT-Food Science and Technology. 69:570-578
Theron, K, A, Muller, M, Van der Rijst, M, Cronje, J, C, le Roux, M, Joubert, E. 2014. Sensory profiling of honeybush tea (Cyclopia species) and the development of a honeybush sensory wheel. Food Research International. 66:12-22
Tsai, P, J, Mclntosh, J, Pearce, P, Camden, B, Jordan, B, R. 2002. Anthocyanin and Antioxidant capacity in roselle (Hibiscus sabdariffa L.) extract. Food Research International. 35(4) : 351-356
Uckiah, A, Goburdhun, D, Ruggoo, A. 2009. Vitamin C content during processing and storage of pineapple. Nutrition & Food Science. 39(4):398-412
USDA. 2016. Basic report 19296, honey. Dilihat 9 Juni 2016. <https://ndb.nal.usda.gov/ndb/foods/show/6287>
Utama-ang, N, Chompreeda, P, Haruthaithanasan, V, Lerdvuthisopon, N, Suwon sichon, T, Watkins, B, A. 2007. Optimization of chemical properties, sensory descriptive, and consumer acceptance
of jiaogulan tea using response surface methodology (RSM). CMU. J. Nat. Sci. 6(1):101-119
Verzera, A, Tripodi, G, Condurso, C, Dima, G, Marra, A. 2014. Chiral volatile compounds for the determination of orange honey authenticity. Food Control. 39:237-243
Winarno, FG. 2008. Kimia Pangan dan Gizi. Gramedia Pustaka Utama, Jakarta
Yulia, A, Rahmi, S, L, Madyawati, L. 2013. Minuman fungsional ekstrak kulit kayu manis dan kelopak bunga rosela. Jurnal Penelitian Universitas Jambi: Seri Sains. 15(1):79-84
Yulia, A, Suparmo, Harmayani, E. 2011. Studi pembuatan minuman ringan berk-abonasi dari ekstrak kulit kayu manis–madu. Jurnal Penelitian Universitas Jambi: Seri Sains. 13(2): 1-4
Yuwono, SS, Susanto, T. 1998. Pengujian Sifat Pangan. UB, Malang
Zeleny, M. 1982. Multiple Criteria Decision Making. McGraw-Hill, New York
Zhang, Q, Ruan, J. 2016. Tea: analysis and tasting. Encyclopedia of Food and Health. 256-267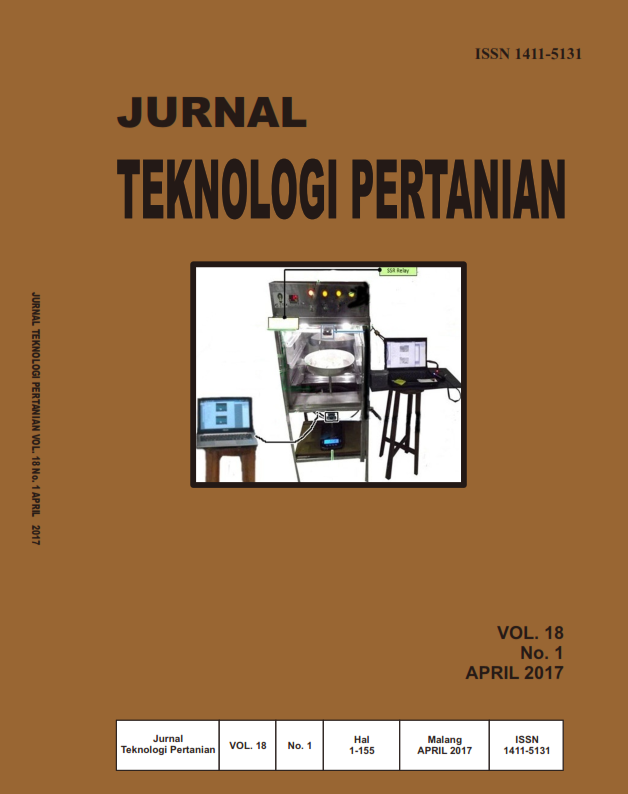 Downloads
License
Authors who publish with this journal agree to the following terms:
Authors retain copyright and grant the journal right of first publication with the work simultaneously licensed under a Creative Commons Attribution License that allows others to share the work with an acknowledgement of the work's authorship and initial publication in this journal
Authors are able to enter into separate, additional contractual arrangements for the non-exclusive distribution of the journal's published version of the work (e.g., post it to an institutional repository or publish it in a book), with an acknowledgement of its initial publication in this journal